Restaurants near Suitelodges Gooilanden
Would you like to eat out during your holiday or your weekend away? We have selected some of our favourites in the area for you to enjoy.
Around the lakes you will find many good restaurants and terraces where you can enjoy a nice cup of coffee, lunch or a delicious dinner. Many restaurants are located directly at the water and have a jetty where you can moor with your (rental) boat!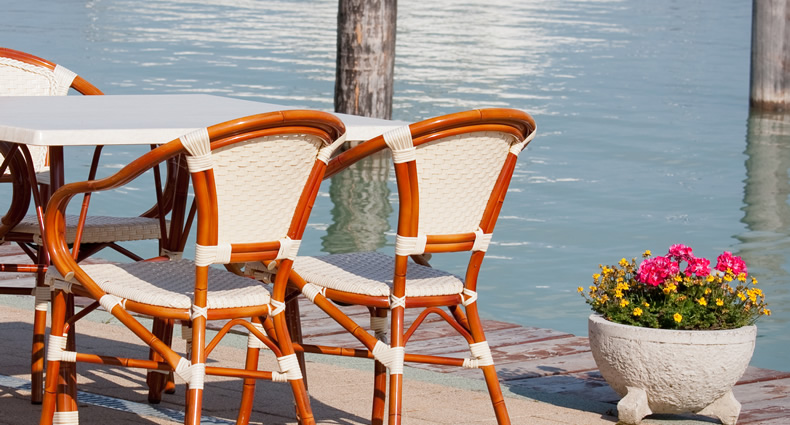 Restaurant De Nederlanden
As far as we are concerned, restaurant De Nederlanden has quite rightly been awarded a Michelin star. The property is in a beautiful location on the Loosdrechtse Plassen, near a drawbridge and with a lovely terrace at the water's edge. There is a large jetty where you can moor with your boat – which makes it a perfect destination to have lunch during a day of boating! Please note: on Saturdays the restaurant is open from 18:00 (6PM). Dining at De Nederlanden is a true celebration: the beautiful (classic) dishes are combined with delicious wines.
Address: Duinkerken 3, Vreeland aan de Vecht
Website: nederlanden.nl
Restaurant Najade
Restaurant Najade is located directly on the lakes of Loosdrecht, at Gooilanden-side of the water and therefore easily accessible from the park: in about a quarter of an hour you can bike to Loosdrecht and the restaurant. Najade is located in the harbour of Loosdrecht and offers you a beautiful view over the water. The Tournedos and the duck at Najade are our absolute favourites, and you can also enjoy a nice cup of coffee on the fine terrace.
Address: Oud-Loosdrechtsedijk 243, 1231 LX Loosdrecht
Website: restaurant-najade.nl
Hilversum
Bistro de Smaakboutique
In this cozy bistro, in the middle of Hilversum, you eat pure and honest food. What makes the restaurant very worthwhile is the extensive wine selection. Two wines are recommended for each dish: a 'logical' choice, which you might choose yourself, and an exciting choice – which can provide a wonderful surprise!
Address: Laanstraat 1A, 1211 HG Hilversum
Website: bistrosmaakboutique.nl
Heren Spyker
Are you looking for a night out with a fancy dinner? Then the restaurant Heren Spyker is a great choice! In a beautiful monumental building, in the middle of the centre of Hilversum, the enthusiastic team serves beautiful and enormously tasteful dishes – of course with accompanying wines. Address: Kerkbrink 17, 1211 BW Hilversum
Website: herenspyker.nl
Paisan
At Paisan you can enjoy Mediterranean/Middle Eastern lunches and dinners. A surprising combination that is very worthwhile! Flavours from Spain, Italy and Greece are combined with Arab influences and the result is fantastic. Don't forget to finish off with a cup of coffee: the barista is a true craftsman!
Address: 's-Gravelandseweg 46, 1211 BT Hilversum
Website: paisan.nu